Privacy and Security for the Healthcare Industry
It's possible to safeguard the identities and protected health information you are trusted to manage without sacrificing convenience and compliance.
The problem ...
Healthcare institutions and apps collect sensitive health and financial information to conveniently service patients and consumers but suffer data breaches that compromise trust and obliterate compliance.
The risk increases each time:
Patient portals are utilized across multiple channels and access points

Insurers access patient information to process claims

Consumers use health apps that track personal information
Think about how:
To meet HIPAA, FDA and FTC compliance

Data is spread across so many parties

Critical health data is to saving lives and managing public outcomes

Healthcare is among the top industries to be breached
Healthcare needs an immediate solution to safeguard trusted identities and PHI from attackers.
Sensitive health data and personal identifying information are valued at 20 to 50 times more than financial identities on the black market.

Medical identity theft costs the healthcare industry $30 billion a year and an average of $13,500 for each victim to resolve the issue.

Most digital health apps on the market are subject to data breaches and more than 90,000 health apps were released in 2021, with 88% able to collect and share user data.

The healthcare industry has paid the highest average data breach cost compared to other industries over the past 11 years.
KYC, HIPAA, FTC and FDA compliance are just the starting points. Secure your Healthcare institution across the Circle of Identity with Anonybit.
Privacy-by-design
Anonybit's revolutionary decentralized infrastructure leverages Multi-Party Computing and Zero Knowledge Proofs to convert personal data, including biometrics and images into anonymized bits, rendering them useless to attackers and even insiders.
No single point of ownership

No central point of control

No central data repository

No PII storage risk
Security by default
By connecting all aspects of the identity lifecycle, Anonybit closes the gaps that attackers exploit for account takeover, email compromise and identity theft.
Enable HIPAA compliance

Utilize biometrics for strong authentication

Device-independent

Passwordless account retrieval
How to implement the Circle of Identity in Health Apps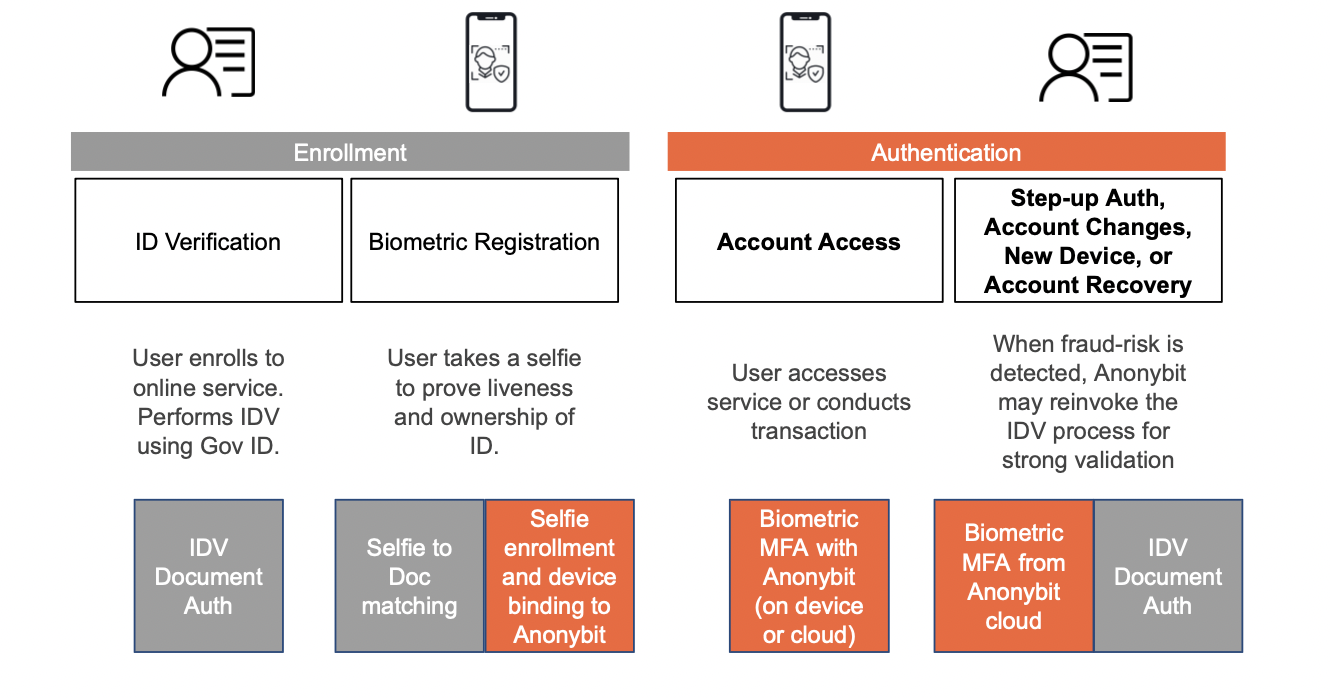 Anonybit gives you peace of mind, ensuring HIPAA compliance and securing patient information in ways you never thought possible.
We enable biometrics and other personal data to be leveraged across the entire patient journey whether opening, accessing, transacting or recovering an account or health record and we ensure patient records are out of reach from attackers.
The result: a smooth and frictionless patient journey that eliminates fraud, increases safety and seamlessly and securely satisfies compliance.
Our products leverage decentralization to ensure both privacy and security. No more tradeoffs.
HOW DO YOU ENSURE SECURITY, COMPLIANCE AND A FRICTIONLESS USER EXPERIENCE?
Passwordless Authentication
Strong identity assurance with biometric MFA

Decentralized authentication across the identity lifecycle

Connects the disconnected siloes in the identity stack to solve the account recovery problem
Resources for securing healthcare businesses and applications
It's time to secure Healthcare data and applications.
Offer secure account access and recovery and ensure people are who they claim to be
Avoid central honeypots of personal data while maintaining full regulatory compliance
Eliminate worry around lost and unrecoverable passwords