Privacy and Security for Financial Services
Safeguard your customer's most precious possessions - their identities and their assets - and prevent account takeover fraud without sacrificing the convenience and compliance of your financial offerings.
The problem ...
No matter how much is being spent on cybersecurity and fraud prevention, THE ATTACKERS MANAGE TO STILL GET THROUGH.
The root of the problem begins with how personal data is stored and managed. From setting up an account with social security numbers, documents and images to retrieving funds and conducting transactions with usernames and passwords — your customers rely on you to keep their accounts out of reach from hackers.
But ...
We are not doing a good job. Personal data is kept in central honeypots and identity management processes are completely disjointed.
Think about how your customers currently interface with your digital channels:
With a reliance on outdated and unsafe use of passwords for authentication

Where fraud detection relies on reactive protocols that occur after the fact

With security and backup protocols that can expose personal data

And disconnected siloes that create added friction
And that's why we've designed our products with the privacy, security and the end to end user journey in mind.
It is time to build financial services based on trusted identities…
59% of identity fraud victims experienced total account takeover in 2021.

Identity fraud where criminals opened a new account using a person's PII affected 4.9 million victims in 2021.

Identity fraud involving existing checking, savings, insurance or other accounts increased 73 percent from 2020 to 2021 and totaled $7.8 billion.

Fraud involving existing credit cards increased 69 percent and cost consumers an estimated $9.3 billion.
KYC requirements are just the starting point. Secure your banking or fintech application across the Circle of Identity with Anonybit.
Privacy-by-design
Anonybit's revolutionary decentralized infrastructure leverages Multi-Party Computing and Zero Knowledge Proofs to convert personal data, including biometrics and images into anonymized bits, rendering them useless to attackers and even insiders.
No single point of ownership

No central point of control

No central data repository

No PII storage risk
Security by default
By connecting all aspects of the identity lifecycle seamlessly, Anonybit closes the gaps that attackers exploit for account takeover, business email compromise and identity theft.
Connect with GDPR and KYC processes

Biometrics for strong authentication

Device-independent

Passwordless account retrieval
How to implement the Circle of Identity for Financial Services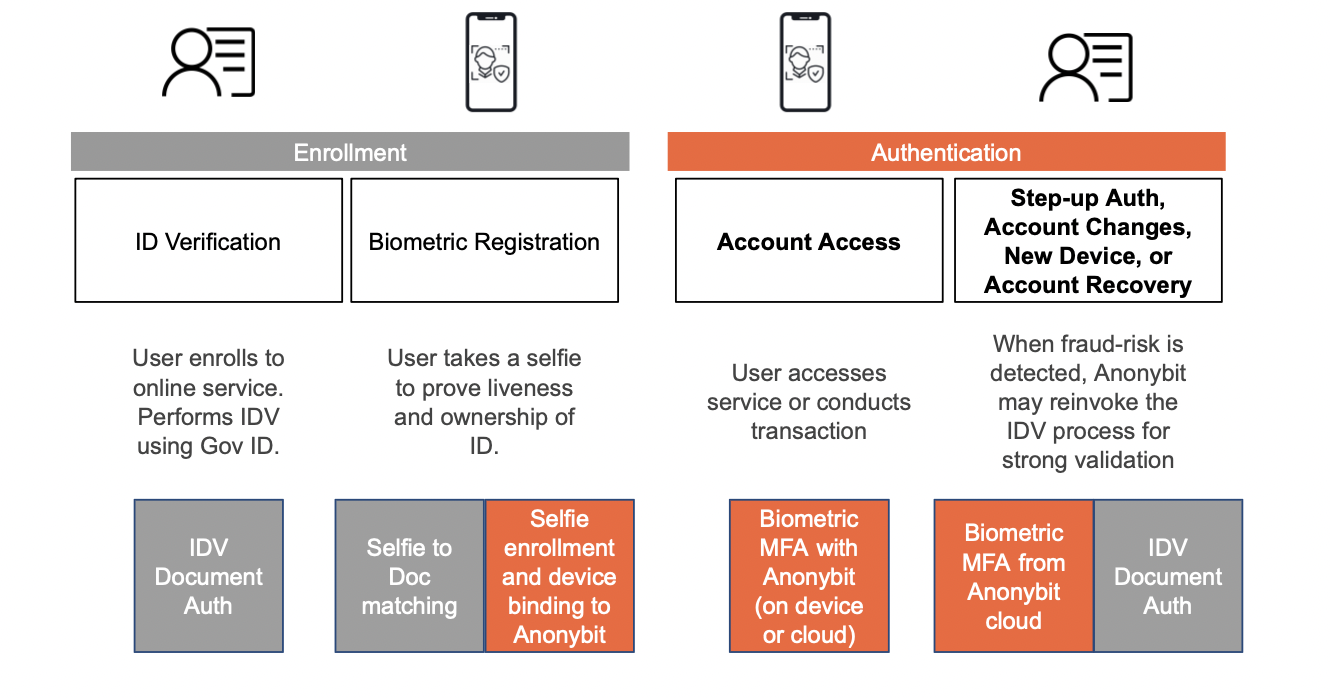 We enable consistent biometrics to be leveraged across the entire customer authentication journey whether opening, accessing, transacting or recovering an account.
This provides a smooth and frictionless customer experience that eliminates fraud and seamlessly and securely satisfies compliance.
Our products leverage decentralization to ensure both privacy and security. No more tradeoffs.
How do you prevent account takeover fraud and protect account security?
Passwordless Authentication
Decentralized authentication across the identity lifecycle

Connects the disconnected siloes in the identity management stack to solve the account recovery problem

Decentralized biometrics storage and matching for the ultimate in privacy and security
HOW DO YOU PROTECT PII AND SENSITIVE DATA LIKE IMAGES AGAINST DATA BREACHES?
Decentralized Data Vault
Secure, decentralized storage for personal data and digital assets

Protects images, biographic, demographic, biometric and other PII

Strong biometric MFA ensures only the authorized people have access
It's time to secure your Banking and Fintech applications with Anonybit
.
Offer secure account access and recovery and ensure people are who they claim to be
Avoid central honeypots of personal data while maintaining full regulatory compliance
Eliminate cost and friction around password and account resets